The City of Kandalaksha &
The Kandalaksha Nature Reserve
Nature Reserve
The Kandalaksha Nature Reserve is located in the Kola Peninsula, on the White Sea coast, in the Murmansk Region, just beyond the Polar Circle. The Reserve headquarters are in the City of Kandalaksha (see below).
The Reserve was founded in 1932 for the protection and study of the Common Eider (Sоmateria mоllissima).
Over 70% of the Reserve's territory is sea and islands.
Please note that visiting the nature reserve is possible only if you have research interests; it is NOT a tourist destination. Those who are into wilderness will find lots of empty space, including taiga, tundra, hills, islands, rivers, or bare rock all around. Population density of the Kola Peninsula is around 4.5 bipeds per square kilometer but most of them are in the cities or along the White Sea cost. The middle of the peninsula is empty. Quite literaly empty.
The Kandalaksha Nature Reserve is an active cultural and educational centers. The Reserve hosts about 150 students every year. Most of Russian seabird experts started by working in the Kandalaksha Nature Reserve.
The City of Kandalaksha
Getting to Kandalaksha
At least three good trains leave daily from the Leningradsky Station in Moscow, and a couple from Saint-Petersburg. Time in transit from Moscow to Kandalaksha is about 36 hours. Trains originating from Moscow or Saint-Petersburg are cleaner and less smelly than those from the south. Avoid Adler, Novorossiysk, Simferopol etc. trains.
Travel by car can only be recommended to hard-core adventure seekers. Tried that once in late summer of 2009. Doable but.. At one point you'll be 200 miles away from the nearest filling station while the road will do its best to reduce your care to a pile of parts it was once made of. Those wishing to try driving themselves to Kandalaksha may want to see my kandalaksha.su.
If you are in Finland, just take a bus to Kandalaksha. The Kola Peninsula is more part of Northern Europe than of Russia but around the 15th century these lands were sort of invaded by Novgorod which, in turn, was decimated by Ivan the Terrible and made a part of Muscovy sometime in the second half of the 16th century. But if history was in the habit of developing sensibly and rationally the Kola Peninsula would not be part of Northern Europe. I'll be adding instructions on how to get here from Northern Europe soon. If you've travelled here from Norway or Finland and have a story please send it.
Kandalaksha Area Attractions
The Nature Reserve of course, and largely unspoiled nature (Russian style so heaps of garbage don't count) all around. Here you'll find sea, tundra, and taiga all within walking distance. A Saami tribe, all 150 of them, with their deer and shamans and drums and psychedelic mushrooms is there somewhere in the tundra in hills the middle of the peninsula. Details later but I've been told by a hitch-hiker they've reverted back to living in wigwams and using deer as transportation to keep authenticity-seeking tourists happy. Hunting and fishing are popular both for pleasure and profit although I'm personally averse to these activities so please don't contact me if you wish to derive fun from making fuzzy little animals miserable. Berries and mushrooms grow in great number and are of excellent quality. A few old churches and a succession of monasteries on your way there should you opt to travel by car. And yes, I can be hired to take you there by car if you are both rich and insane. I'm also working on getting a license to operate a boat, which opens even more possibilities of getting you in trouble... A herd of wild horses in the sand plains near Kuzomen, 150 or so miles south from Kandalaksha, may be something worth seeing.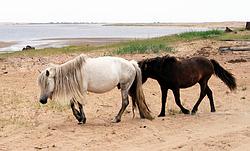 Wild horses of the Kola Peninsula
Photo borrowed from www.team51.ru
Dissidents of all sorts, from Old Believers to present-day misfits, are found in great numbers in the northern outskirts of the empire, and the White Sea cost has traditionally been one of the places where those unhappy with Russia sought refuge. I confess my present Kandalaksha project is partly or even largely motivated by my not being fully accepting of where the country is and is going to. Cemeteries (old ones, or Soviet, German, and Finn from World War 2) may be of interest to some. I may write more specifically on cemetaries later. A downhill skiing complex, with well-lit slope and an elevator, is another thing that may make Kandalaksha worth visiting. Normally you can expect permanent snow cover from the beginning of November till well into April. In good weather the Khibiny Mountain Range can be seen if you climb one of the hills near Kandalaksha.
Where to stay in Kandalaksha
There are two hotel in Kandalaksha. There also is an establishment halfway between a hotel and a brothel. Staying in the health spa ("sanatorium") may be a fun option. A few apartments are available for short-term rent. Hotel accommodation rates will normally fall in the $50-100/night range. The "sanatorium" is from $70 to $200 but medical procedures (massage, dirt bathes, enemas and what not) are included. And food of course. Private apartments are very few in number and the asking rate is around $35/night. Long-term accommodation can be very inexpensive. It is realistic to rent an apartment for $200-500 per month.
If I like Kandalaksha and move there, expect to be able to arrange accommodation through me. As usual, I'll be concentrating on the low end of the market to make Russian travel accessible to fellow losers.
If you have personal or professional interests in Kandalaksha, in the Kola Peninsula, or specifically in the Kandalaksha Nature Reserve then please write to us and we'll accommodate your request in the best possible way.
PS.
My other projects that may be of interest to travellers to Russia:
Accommodation in Moscow
Errands, Services, & Project Facilitation
English Speaking Guide & Drivers in Moscow
Talk to me about any of your concerns related to travelling to or living in Russia. Chances are I will be able to answer your query or recommend someone who will.